I arrived home from taking my package to the post office only to find that my new BFF
Steph
is WAY MORE on the ball than I am! My fabulous box of goodies already arrived! Here are the wrapped treasures that I pulled out of my UPS box:
and the exciting contents! Cookies! Chocolate! Brownies! Books! Burt's Bee's Balm! Lovely nail polish that will perfectly match my favorite Lipstick! Supercute Earrings! and An Awesome Pepperminty-Smelling Heat some Beans, Relax, and Be nice To Yourself Pillow! Oh yeah!
Please note the sneaky hand wanting to share my bounteous score! (I gave 2 cookies away, but hid the candy. I'm not
even
going to make the brownies until everyone in the house is asleep. Heeheehee!)
I had to laugh because (without giving any surprises away) we think alot alike! So many similar items flying back and forth from here to UT! Steph, I'm pretty darn sure that you will love your treats! Because I absolutely L-O-V-E mine! Great minds think alike! (But I will spill one surprise - Sorry about the playdoh Steph. It is NOT one of my favorite things, but I thought it might save you from having to share your chocolate. Send them outside to play with it.)
I have to give an enthusiastic shout-out to one of my fave people in the world,
Mamarazzi!
Thanks so much for hosting
Mamarazzi's Favorite Things Swap!
You are brilliant! - We've exchanged fun treats through the mail and so have our girls. It's such a fun way to spread the LOVE! It's even more fun to plan and give, than it is to receive! (Ok, that's a lie. But, it's almost as good ;D, LOL!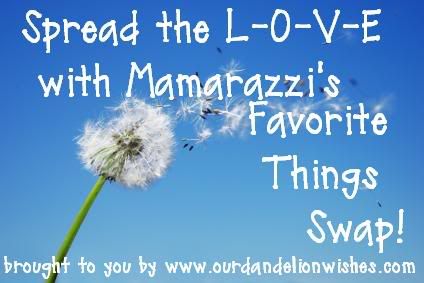 Thanks again Stephnie!
(BTW, go check out her fun blog. She has four of the most adorable daughters, sweet puppies, a great family, and a link to a
super cute tutorial
from her sis for a Sock Monkey! - Yes, Steph - I went all the way back to your sock monster :) and beyond.) Thanks again! Got your note too!