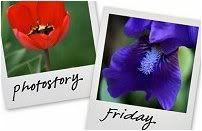 Hosted by Cecily and

MamaGeek
My favorite picture of all time! This little girl was long-awaited and when she finally arrived, became the center of our family. I think that I bought this dress before I even had her and had to wait for her to grow into it. I could just picture her walking on the beach in her little sailor dress.
I'd just started painting watercolors and took this with the idea that I was taking inspiration pictures for my paintings.