Thunder and Lightning! Very, very Frightening! Oh, Mama Mia!
Tonight we were taken by surprise when a 10% chance of rain suddenly became a downpour. While DH was BBQing some burgers for dinner. I admit it, this shouldn't be terribly surprising. But we live in a suburb of Phoenix. We don't take the threat of rain very seriously. It was about 8 p.m. and suddenly the street was filled with neighborhood children playing in the rain, in the dark. I'd bet all their parents were dying to go out and play in it too. So far, for this Monsoon season, we are almost up to 3 inches of rainfall. Whoop Woo!
DH was roughin' it while the kids played with the umbrellas.
Join the excitement that is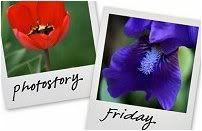 Hosted by Cecily and MamaGeek